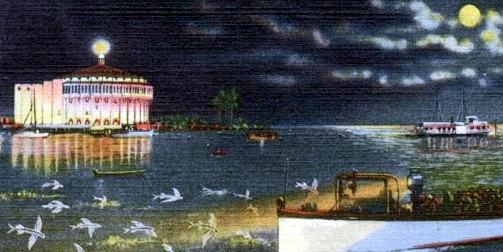 Catalina Island
Romantic? Yes. Casino-y? Indeed. Full of flying fish during certain times of the year? Definitely. It's Catalina Island.
OLD FRIENDSHIP: Islands and amour go way back; probably back to a day when both were invented (were islands invented first, or love? Science, get to it.) But, of course, we have certain ideas about what a romantic, beach-close getaway can be. Strolls on the beach. Beers on the beach. Some sort of hammock situation. A hammock, on the beach, with beers. And while we're definitely into all of that, because, yeah, nothing not to like there, we like to change up the romantic/island scene once and awhile. Oh, you know. Zip lines. Buffalo sightings. A tour of a historic ballroom, and glass bottom boat tours. These are all famously island-y things, too, and done a deux? Pretty special. (Sorry, hammock and beer.) If this has set you to dreaming of Catalina Island, then read on.
VALENTINE'S SPECIALS: The visitors bureau has kindly gone and rounded up a caboodle of solid specials, many of them centered around Feb. 14 (just look for the wee hearts). A lot of them involve a couples massage, like at The Avalon Hotel; others, like the Old Turner Inn, are going the glasses-of-bubbly route. We want to stay in a room called The Seashell Room. And the Catalina Island Conservancy has an eco Jeep tour on that'll include a free guide. If you can't make it out for the kissiest holiday of the year, fear not; Catalina, being an island, is open all year. Plus, the flying fish are straight ahead. Cue the flying fish theme. Wait. Catalina's famous flying fish don't have a theme? They so should, and it should sound a bit like "Tequila." So say us.