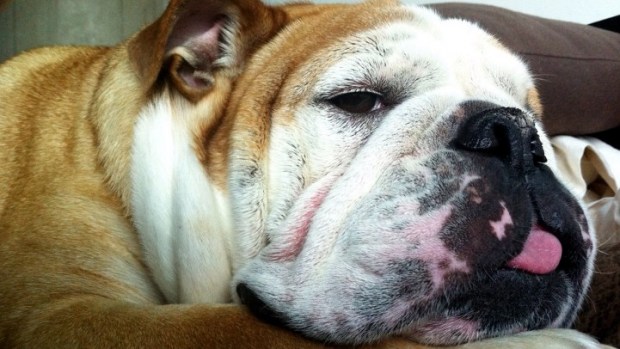 Kimpton
Dillon of the Hotel Burnham takes a snooze. Do you have a great pet pic? Kimpton Hotels wants to see it.
HOTEL HOUNDS: It's year two for Kimpton Hotels' annual Paw-parazzi Pet Photo Contest, which makes us glad for two reasons. The first is people spend an inordinate amount of time looking at, interacting, and snapping pictures of their pets, so what the contest is asking of potential participants is not outside the realm of what's already happening. And two? If you and your sweet snapshot win, you get, wait for it, three nights "at a Kimpton Hotel of your choice." Yep. This isn't a one-night-only dealie. It's a rare contest that offers a trio of nights at any hotel in a company's system, so jump, like a jumpy pup, at this one. Here's what you need to know.
THE DETAILS: You can upload a photo through the last day of May. A quintet of photos will rise to the top in four rounds (they'll be the ones that get the most Likes). Then a winner will be picked from the remaining 20 photos (Animal Radio people will do the picking, and they must know their furry ones, judging from their workplace name). There are asterisks, of course, and you'll want to know what you win if you win, beyond those awesome three nights. Kimpton is a pet-friendly chain, by the by, which you could probably guess, so a pet bed and treats for your buddy, during your winning vacation, are provided.