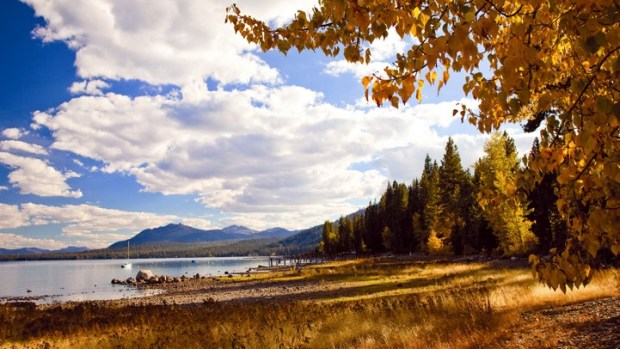 North Lake Tahoe/Jeff Dow
Oktoberfests, hikes, and other outdoorsy to-dos mark Lake Tahoe's most mellow season.
TAHOE'S SHOWIEST SEASON: People who only know the Tahoe area for its skiing pleasures may assume that it is a verdant area dotted without thousands of firs but few trees that respond, with color, to the coming of fall. But those people are few and far between, we imagine, and while autumn is a slower season for the ski-happy area, it is a rich one, too. For trees really do burst out in golds and yellows, attracting leaf peepers from Nevada and California alike. If you're thinking of hitting North America's largest Alpine lake before the ski poles and cable sweaters come out, for a little solitude and foliage appreciation, best take a look at this page for some choice foliage-viewing spots -- near Sorensen's Resort where Highways 88 and 89 meet is one suggestion -- as well as keep an eye on the Tahoe sites for fall-related happenings.
LIKE... Oktoberfest at the Village at Squaw Valley on Saturday, Sept. 29 (yep, there's a Bratwurst toss, and excellent German beers). The Resort at Squaw Creek will throw a multi-day harvest festival starting on Friday, Oct. 5. Lake Tahoe Restaurant Week, which runs from Oct. 7-14, isn't exactly autumn-inspired, but bet several of the dishes will have autumnal flavors, like roots and sweet potatoes and such. If you want to keep an eye on when trees will start to peak in the area, so you can make your journey then, best keep watch on California Fall Color.