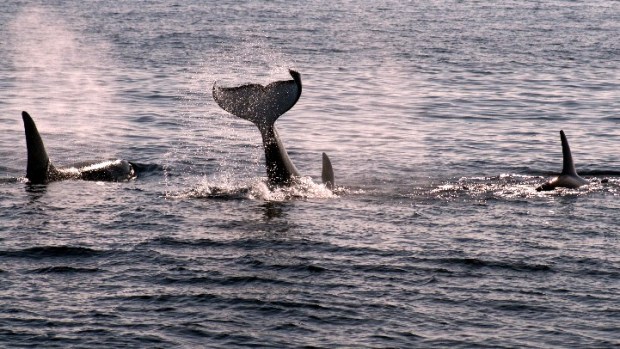 Aquarium of the Pacific
Orca and fin whale sightings have been on the rise near Long Beach during the 2011-2012 winter months.
TWO THINGS: We'll own up to two things right here and now. First thing? We're pretty obsessed with all things Pacific-based, it is true, but the rise in whale sightings, particular orcas, over the last few months has us personally riveted. (Yes, gray whales, we adore you, too, and this isn't to lessen the wonder that your annual migration consistently delivers.) So we've been talking about the whales a lot in this space, and why not? It's a fine and important topic. The second thing we have to admit is that when we received the photo above from the Aquarium of the Pacific we momentarily thought about writing back to say "wait, we didn't ask for a movie still from the latest Hollywood family film. We want a shot of real whales near Long Beach." But wait -- that is a real photo of killer whales frolicking off our own California shore. Does Tinseltown know that nature has superseded their special effects?
CRUISE TIME: The Aquarium of the Pacific also provided whale-heavy video recently shot during a Gray Whale Watch cruise. Of course there's the disclaimer that if you take the cruise, you might not hit the water mammal jackpot; or an orca could breach right in front of your boat. You just have to be a little lucky. But, that said, would we recommend that this is the time to get out on the water, either via the Long Beach aquarium's program or another company? Yes. Such a whale-heavy winter may not come around again soon. Happy looking and good luck, whale lovers!