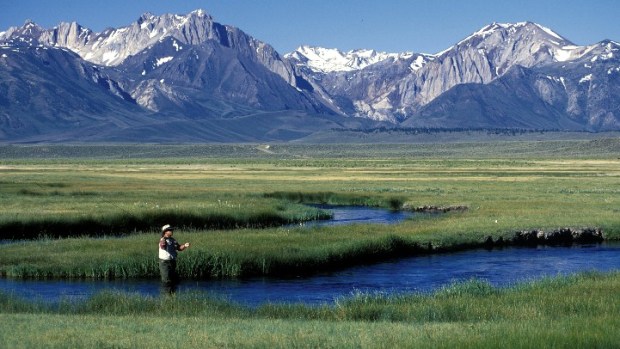 Merry Fishmas
The Fishmas Festival kicks off fishing season in the Eastern Sierra on Friday, April 27.
TAKE TO THE RIVERS: Probably every serious fishing fan in the Golden State has their secret river or stream or body of water they return to, year after year. And while we're sure each has its pluses, we sigh a bit over the meadow-luscious, craggy-majestic vistas of the Eastern Sierra. And when a person is out there, against those famous mountains, in hip waders, and a long line is being cast, well. It just looks like something out of a book. If you feel the romance of standing in fresh-from-the-peaks water for hours on end, we wouldn't be at all surprised to hear you'll be making for the Fishmas Festival in Mammoth on Saturday, April 28. What's it celebrating? Why the opening of fishing season in the Eastern Sierra.
ON THE DOCKET: Local brews, local tunes, and stuff to peruse from fishing-minded vendors are part of the party. So important is this party to the committed line-casters of the area that there's even a Fishmas Eve on Friday, April 27 (yep, more brews, more music). But even if you can't make the piscine-minded bash, take heart, dear angler; resorts in the Sierra will be offering fishing-focused hotel deals later in the season. For example? The Pinecliff Lodge has a 30% off deal for certain 2012 dates. And the code is easy to remember: FISH. Got it? Good.