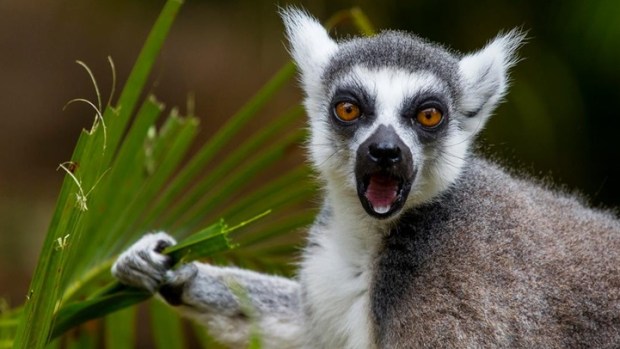 San Diego Zoo
The all-new Lemur Walk debuted at the San Diego Zoo Safari Park on Monday, June 17.
A FUNNY FACT OF FILM: Animation is an art form that will be with us forever, in one form or another (or, we hope, many). Computer animation, 2D, hand-drawn, motion capture? It's here to stay. And as long as animation is here to stay, talking animals are here to stay, too. What would our cartoons be without wisecrackin' beasties having some misadventure together? They'd be devoid of characters, is what. And as long as talking animals exist in the movies and on television, lemurs will have a starring role. True, there are many fuzzy, adorable creatures in nature but none capture the fancy of creative types seemingly as often as the ring-tailed omnivores of Madagascar. Is it the lemurs' expressive eyes or nails (nope, not claws) or their robust and dynamic social groups? Clearly animators, and non-animating humans, are forever fascinated with the wee primates. But how often do we get to see them in person -- or, er, in lemur -- compared to the big screen? The San Diego Zoo Safari Park is now giving lovers of lemurs a chance to get a bit closer to the lively animals inside the park's new Lemur Walk, which debuted on Monday, June 17.
ON THE LEMUR WALK: One male and four females call the walk home, and they're described as "curious and highly sociable," meaning they may get closer than you'd think. Oh, and if you want to know your lemur lingo before heading in, a group of lemurs is a troop. We'd toss that around several times and impress your pals. "Grooming, jumping, climbing" are three favorite lemur pursuits, as well as, wait for it, "sunbathing." Oh, lemurs. You are rather comical. Now we see why the animators return to draw you and make you famous, you and your often funny ways, time and again.