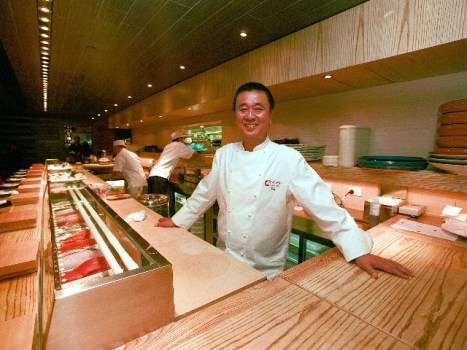 Getty Images
The world's first Nobu Hotel will debut at Caesars Palace.
NOBU IN VEGAS: The boutique hotel-within-a-hotel idea -- a concept that Las Vegas has taken to in the past at places like THEhotel at Mandalay Bay -- is getting a big, central-Strip spotlight courtesy of the recently announced Nobu Hotel. Nobu Hospitality is pairing up with Caesars Palace, and rather than build a from-scratch stay-place on the Caesars property a re-do of the Centurion Tower is in the works.
THE FIRST: Nobu Matsuhisa is a name much known in restaurant circles, of course; the Caesars-based Nobu Hotel will be the first of its kind (movie fans should take note that Robert de Niro is an investor). The penthouse will be all about "signature Japanese elegance"; there will also be 16 suites and 180 rooms. No opening date has been given; the "completion of this transaction is subject to a number of conditions," note, so best keep watch at the Caesars site.