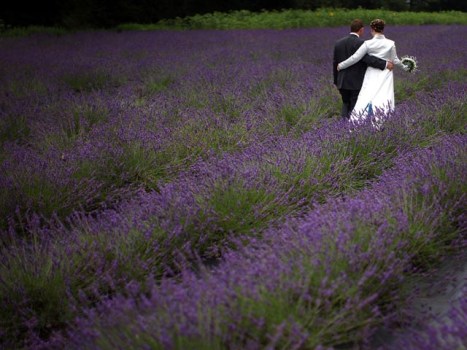 Getty Images
The Ojai Lavender Festival is on Saturday, June 23.
THE PURPLE HERB: When we try to think of all the purple things in nature, a few things come to mind. Eggplant. The blossom of a jacaranda. Cabbage. And those almost comic heads of cauliflower. And then there's lavender, an herb so ancient and so famous and so revered that it lends its name to its own color, even in the non-plant-based world. (Think of how often quilts and clothing and paints are described as "lavender.") Granted, eggplant has also kindly shared its name with paint companies the world over, but lavender is used so far and wide that we'll wager it even outstrips "purple" as a color in some fancier quarters. Yep, people like it, and some people really, really like it, and they happen to live around Ojai, which is a lavender capital. And every summer the good lavender lovers of Ojai throw a party for the scentful herb.
AND THIS YEAR... the party is on Saturday, June 23. Plants'll be for sale -- and, spoiler alert, a lot of lavender will be in the mix -- as well as soaps, art, and other goodies that have a tie to the elegant botanical. Music, gardening talks, and other lovely lavender-y haps'll be blooming. This is all happening at Libbey Park, but if you want to really get your lavender love on, you can head for the New Oak Ranch for the U-Pick Lavender season. It's a short one, beginning in mid-June, so don't dally.