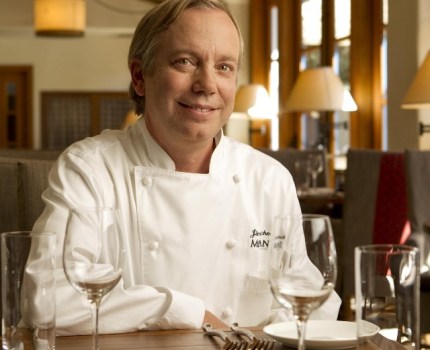 Palm Desert Food & Wine Festival
Chef Jimmy Schmidt will appear at the 2011 Palm Desert Food & Wine Festival.
BIG NAMES: If you're a fan of the food festival circuit, you know that sometimes the weekends can be heavy on the tasty morsels but light on appearances by the people who create them. That will certainly not be the case at the Palm Desert Food & Wine Festival, where both plates upon plates of tasty morselage and chefly hellos are part of the scene. It's happening on Saturday, March 26 and Sunday, March 27, and what you sign up for will really depend on what you want to learn and try and who you want to meet.
CHEF TIME: James Beard winner Jimmy Schmidt -- he toques at Morgan's in the Desert -- will be there; so will Bradley Ogden and Roy Yamaguchi and Duff Goldman of "Ace of Cakes." The full roster is rife with kitchen royalty, in fact. We'll note that the emphasis of the fest is on "fine dining" and that money raised will help the Culinary Institute of America's Endowed Scholarship Fund. So figure that while you enjoy yourself you'll be assisting the culinary greats of tomorrow, too.