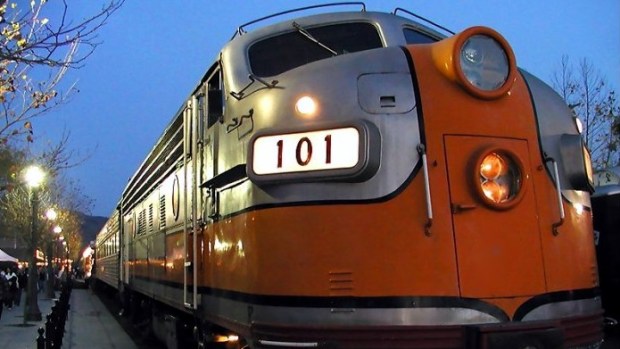 Fillmore & Western
The Fillmore & Western Pumpkinliners will head out every weekend in October.
TRAIN TIMES TWO: Train trips to a particular destination offer a unique pleasure because there are two trips involved. Nope, not the going to and coming from, although, if you want to split it that way, that's fine. But we're referring to the fact that when you sign up for a train trip, you essentially take a trip -- your drive -- to a place where you'll take another -- the train. (Now, if you actually live next to a train, and don't need that first traveling-to part, well, lucky you.) This is all extremely obvious, yes, but we're stating it for a reason: Whenever we board the Fillmore & Western's autumn Pumpkinliner train, and we make for its remote and rustic pumpkin patch, we have had the sensation of traveling far, although we, in reality, have not. We're not sure if it was the two forms of transport -- car and train -- that led us to the patch, or that there's something a bit enchanted about being on an historic train that's chugging toward a spooky outpost. We'll pick the latter in this case.
PUMPKINLINER TIME: And of all the trips the famous trains take during the year (when they're not busy being in films like "Inception" and "Water for Elephans"), the Fillmore-based Pumpkinliners are just about our favorite. They feel old-timey and out-of-town-ish, a bit, which is what a lot of people crave come October; a nature moment with the changing seasons. And the pumpkins and cute crafts that the train heads for add to the charm. The trains'll run each Saturday and Sunday during October, twice a day; adults are twenty bucks and kids are $12. When you return to Fillmore, after your journey, and later home, pause and think about if it felt like you went pretty far. We always feel that way, in the best sense, and, even better? We get to return home that night.