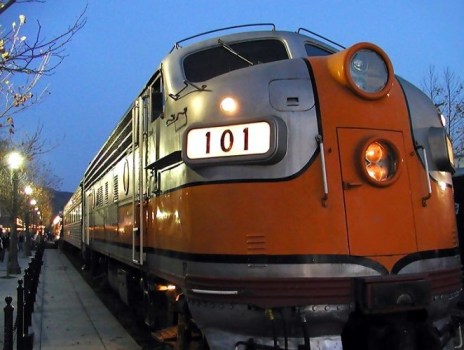 Fillmore & Western
The 2012 Railfest pulls into Fillmore on Saturday, March 24 and Sunday, March 25.
STARRY RAILS: There are two facts we adore about the Fillmore & Western Railway. One? It is just so close. You can spend a Saturday riding in a vintage train car, through orange groves that have been around for decades and decades, then go home that night and truly feel like you had a vacation moment. (A "vacation moment" is like a tiny vacation, without all of the boarding passes and hotel reservations.) Our second favorite thing is that the F&W's tagline is "Home of the Movie Trains." When a big production -- and we're talking "Inception" or "Water for Elephants" big -- needs a train or some tracks, they pack up the giant lights and megaphones and make for Fillmore. (Wait, do they still use megaphones? Someone please say yes.) So when the Fillmore & Western throws its annual Railfest, as it is doing on Saturday, March 24 and Sunday, March 25, we're all aboard.
TWO-DAY TOOT TOOT: A barbecue, model train displays, and other history-loving artifacts'll be in the house (or near the trains, rather). A few "frontier gunfighters" are set to show. There's also a chance to ride on a vintage steam engine. Well, not on it, of course; this isn't a movie. And speaking of movie trains, don't you love how when you see a train in a silent film or old Western, you know it is only a matter of time before people are chasing each *on top* of the train? Yeah, we love that, too.