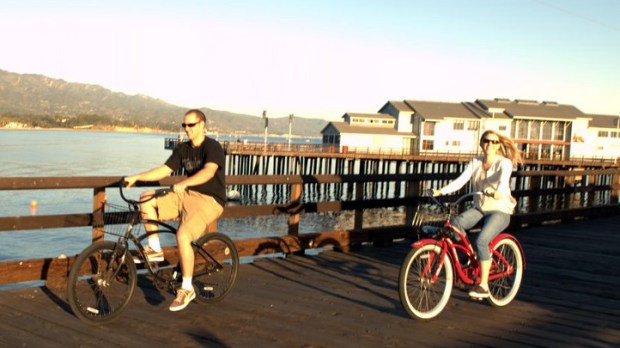 Jay Sinclair
Want to avoid Los Angeles and those 405 woes over the final weekend of September 2012? Santa Barbara Car Free has ideas.
CARMAGEDDON II GETAWAY: While LA's first Carmageddon passed with nary a traffic story back in July 2011 -- well, except for the "Carmaheaven" quips, due to the unexpectedly light traffic beyond the closed stretch of the 405 -- people have gotten to wondering if Carmageddon II will deliver a repeat. Will it still be easy to zip about the city, due to everyone staying in or walking, or will everyone remember how simple it was to get around, due to everyone staying in or walking, and try and drive during the Saturday, Sept. 29 and Sunday, Sept. 30 405 closure? For now, people can only speculate and theorize. Or, they can do one better: Plan to be nowhere near the 405, which will shutter for several miles so the Mulholland Bridge's north side can be demolished. A number of nearby cities offered getaway deals the first time around, including Santa Barbara. And the pretty city is kindly rolling out the welcome mat again.
SANTA BARBARA CAR FREE: The specials come courtesy of Santa Barbara Car Free, an organization that, by its very name, suggests you should think about catching the train up or renting a bike once in town. There's a 20% on a Amtrak Pacific Surfliner trip, a 15% off deal at Hotel Oceana, and bicycle rentals to be had once in town. That's also the weekend of the Smithsonian Museum Day, meaning a lot of American Riviera cultural institutions will be free (but you'll want to look into advance tickets). All in all, can getting out of town really be a bad thing? It could be Carmaheaven again, or maybe not. Steer clear is the word, and if you're in Santa Barbara, you're way, way steering clear.