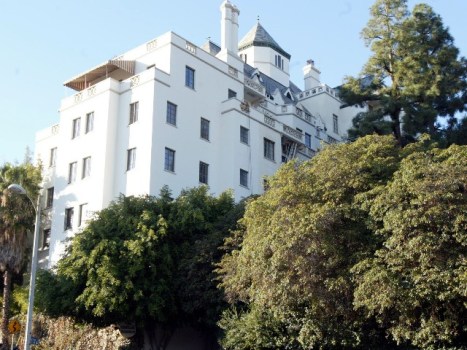 Getty Images
Condé Nast Traveler likes the Chateau Marmont's Room 59.
ROOM SERVICE DREAMS: Is there anyone out there who has made it a goal in life to stay at all of the Condé Nast Traveler "Room with a View" picks? It would certainly be a big goal, and not necessarily a budget-minded one. But. The idea of staying in the most exquisite hotel rooms in the world definitely holds major appeal. One just happens to be on Sunset Boulevard, in the Chateau Marmont, no shocker, and concierge.com identifies it as Room 59.
59 FINE: It's the roomly setting for Sofia Coppola's "Somewhere"; it also has a pretty photogenic, balcony-ish view. The March 2011 piece also mentions Marmont's rather modest room count -- 63 -- which gives us an idea for another hotel-centered goal: Stay in each one. Surely some rock star out there has tried, and succeeded. That could be the concept for another movie, in fact. Producers of Hollywood, have that idea, if you want it, with our blessings. But sign us up as a consultant, or at least somebody who gets her name on one of those soft-backed director's chairs. Deal?