worth the drive
San Francisco Sweet: Choco Lands
Tuck those napkins in: Outside Lands announces its edible line-up.
Friday, May 30, 2014 • Updated 11:01 AM PDT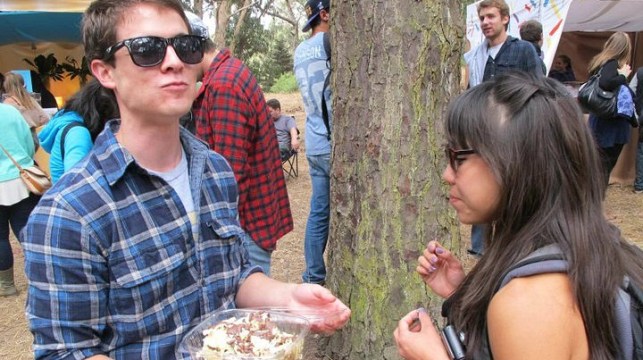 Outside Lands
Been to Choco Lands? Yep, it is a land of chocolate and chocolate-related food. And it will again be part of Outside Lands in San Francisco this August.
FOOD OR MUSIC: Will there ever come a day where concert goers, people excited to attend one of those mega weekend-long music festivals, ever find themselves facing not the stage but the area where the food is made and served? Just to watch cooks fry and chefs drizzle and the edibles come together? Welllll... we're probably not taking our eyes of the mainstages quite yet, but the food scenes popping up at the out-sized festivals are giving the tune-playing performers a real run for attention. Gone is the day where a bag of chips got you through four sets; now posh chardonnays, locally grown, of course, and sustainable seafood and quirky desserts push concert attendees on into the wee smalls of the night. A host of LA's popular eaterys, like Mohawk Bend, made cameos at the 2014 Coachella Music & Arts Festival, and San Francisco's Outside Lands will once again offer a number of lands devoted to food. Nope, there won't be just one big food-filled land at the Friday, Aug. 8 through Sunday, Aug. 10 festival that's set to take over a good chunk of Golden Gate Park; several eats and drinks get their own land. The organizers just announced the food end of the 2014 scene, and you can bet that a certain land shall return.
THAT'S CHOCO LANDS: Guittard Chocolate Company, as local as local gets, "will serve liquid chocolate 'bars'" and give chocolate-making demos. Chocolate-making demos, at a weekend-long concert. Amazers, is the word we want to use, so shall. Humphrey Slocombe Ice Cream and Sharona's Chocolate Shop will also set up camp in the lands. Other delicious lands beyond Choco Lands will include Wine Lands, Beer Lands, and Cheese Lands, which will feature a new artisan bar and careful curation of the Bay's creamiest wedges. Oh, and let us not forget Taste of the Bay Area, which is as big and as full of restaurants as your daydreams are telling you it is. Seriously, do some people go to this music festival just to nosh? We have to think this is so. For the full line-up of the weekend's food side, make your way here.
Copyright NBC Owned Television Stations