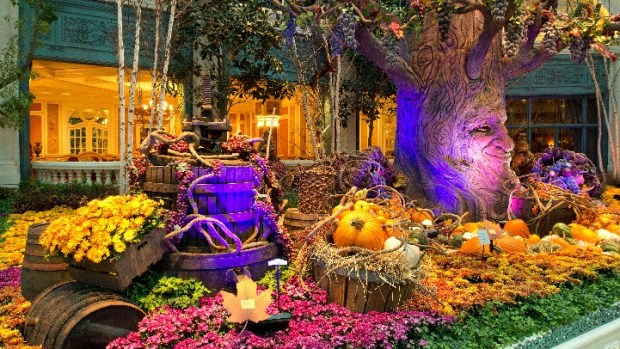 Bellagio
The Bellagio's Conservatory & Botanical Gardens have taken on a whimsical fall scene, complete with wine country touches, through Saturday, Nov. 24.
VINO AND VEGAS: Does Sin City have a long history of serving top labels and employing some of the best sommeliers on the planet? Why, yes, Sin City does; if a handful of new supernaturally stylish restaurants, all of which feature an on-display wine cave, haven't debuted in a year, something is amiss. Vino and Las Vegas are old friends, but the idea of grapes growing along the brightest boulevard in the world doesn't quite fit. Now a vineyard of sorts, or at least vineyard-like touches, have grown inside the Bellagio. Yes, we are indeed talking about the hotel's Conservatory & Botanical Gardens, and, nope, real wine won't be made from the seasonal autumn display (which just debuted this week). But the vintage wine press and authentic cider press lend a bit of Sonoma to Sin City, and the tree with the face? Okay, that's pretty Hollywood, more than anything. We're not saying that some of wine country's oldest trees don't have personalities, because they assuredly do, but faces? Unseen around Napa as of this typing.
AUTUMN SPLENDOR: If you've been to the Bellagio gardens, you know they are free to see, they are pretty picture worthy, and you do wonder at the hours it took to create the over-the-top, Vegas-style displays. We should also add that the autumn-themed garden has a 15-foot-tall scarecrow, a pumpkin made from 3,000 carnations -- oh, Vegas, you do go the extra mile, don't you? -- and live music at 5 p.m. of the classical trio sort. The fall season garden will bloom through Saturday, Nov. 24, when it then drifts away, like a leaf falling from a vine, to make room for the hotel's famous holiday floral spectacular.