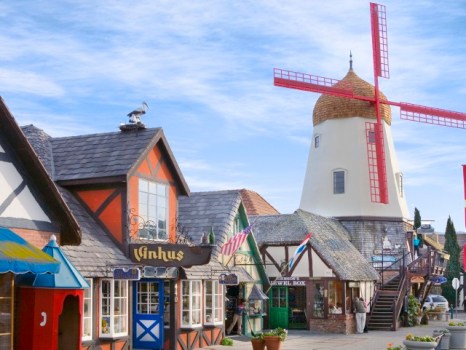 Solvang VIsitors Bureau
The Taste of Solvang schedule as been announced; wine tastings and aebleskivers, anyone?
SUGAR AND TANNINS: One could be forgiven for thinking that Taste of Solvang, the windmill'd, oh-so-charming village's annual walk around and try edible things party, is all pastries and wine. Because, if you've ever visited the village on a day trip? There is probably like an 87% chance you either a) consumed an aebleskiver b) consumed a glass of chardonnay or c) did both in some interesting combination. But the compact burg has more to offer in cuisine, of course, and many of those offerings will be very much on display -- and on people's plates -- during the annual Taste of Solvang bash, which is set to roll from Wednesday, March 14 through Sunday, March 18. The Taste of Solvangers just announced the event's full schedule. Where to go first?
OKAY, FOR US... It's always the Walking Smorgaasbord. Why? Well, the name for one, but there are over 40 stops on the Smorg. (Can we call it the Smorg for short? Kind of catchy, no?) But the opening night Farmers Market Winemakers Dinner holds appeal, too. Whatever part of the schedule you land on, bet the weekend days'll get the most foot traffic. Which is great. Imagine hanging in Solvang on a Saturday with a bunch of other pastry purists? Not a bad way to wend through a weekend.