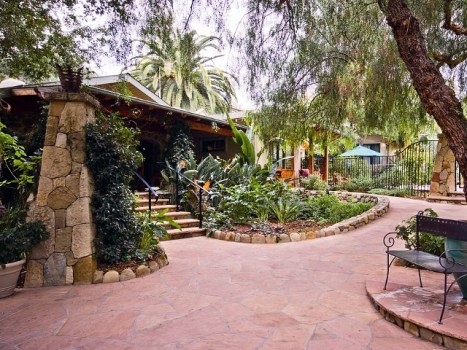 Emerald Iguana Inn
The Emerald Iguana Inn in Ojai has a wine-nice deal on for Spring 2011.
SPRING IN OJAI: If you're thinking citrusy thoughts or lavendery thoughts or a combination of the two, you surely aren't alone. When we think of Ojai in April, we picture a riot of things blooming, and various art shows, and things blooming adjacent to art shows. We also picture just being able to stay over, and not drive home. Perhaps the Ojai Visitors Bureau can read minds, because they've gone and rounded up a goodly handful of interesting Ojai-based deals, both of the lodging and libation sorts.
SPRING WINE TASTING PACKAGE: The Emerald Iguana Inn and the Blue Iguana Inn are both basing their seasonal deal around the enjoying of Casa Barranca wine (guests nab a bottle upon arrival). The Su Nido Inn is going the 25% off route -- nice -- and the Oaks at Ojai is saluting moms and daughters, just in time for a particular May holiday. There are more make-us-wanna-stays, too. Check out the full roster, and get thinking lavendery thoughts.