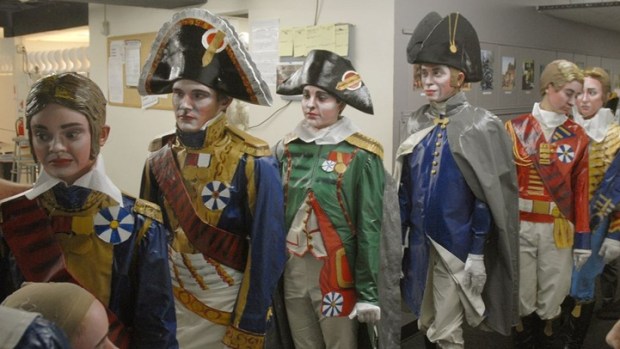 Pageant of the Masters
Pageant of the Masters celebrates its 80th year in Laguna Beach. Want to play a part? Tryouts are on Jan. 5, 6, and 10, 2013.
HOLD YOUR BREATH: Any performer can verify that auditioning for an important role involves holding one's breath at some point. Typically that point comes after the audition, when one gets the phone call or the email that they got the role (or didn't). But holding one's breath, or at least keeping very, very still, during the tryout? That's almost unheard of. A performer should be singing, moving, leaping, acting. There is one notable exception, of course, and that's the famous-everywhere Pageant of the Masters in Laguna Beach. That name should say it all, but if it doesn't, then perhaps "the evening of artworks where people pose and don't move" will explain the rest. It's indeed known around the world, as it should be; it has been around for eight decades this year and regularly sells out most summertime seats in a flash. If you're keen to be on stage portraying a well-known character from art history, rather than in the seats below, your chance is just ahead.
PAGEANT TRYOUTS: Auditions will be held on Saturday, Jan. 5, Sunday, Jan. 6, and Thursday, Jan. 10 for the 2013 Pageant of the Masters, which opens on July 6. People of all ages are needed for the "tableaux vivants," which require an incredible amount of backstage wizardry, make-up, costume-making and effects, in addition to the actors portraying the art-inspired figures. Irvine Bowl Park in Laguna Beach is the audition place; times are 7 to 9 p.m. on the 5th, 2 to 5 p.m. on the 6th, and 7 to 9 p.m. on the 10th. "Prospective volunteers will be measured and photographed," says a statement. We should also note that "Can You Stand Still?" is at the very top of the audition call. Something to keep in mind. So, do you want to be a living Picasso? A sprite from some Renaissance painting of yore? Here's your chance, SoCalers.