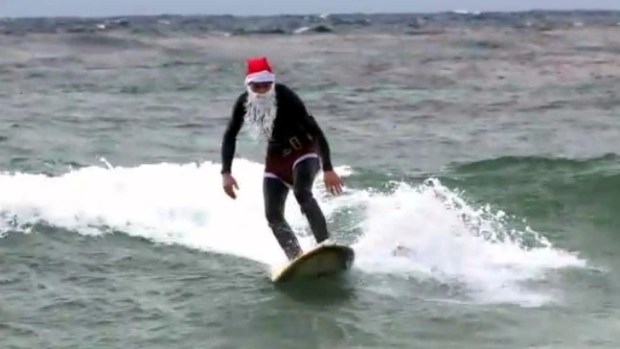 Surfing Santa Competition
Sometimes Santa arrives by sleigh, but here in SoCal he packs a surfboard. See a bevy of Kris Kringles raise money for kids with autism, on Saturday, Nov. 17 in Laguna Niguel.
BEYOND THE SLEIGH: Pick up any cookie tin or decorated wall banner or greeting card box around November or December and you're bound to see a bearded gentleman dressed in red and white. Sometimes he is standing, doing that whole bowl-full-of-jelly laugh he does, but very often he can be seen in the form of conveyance he's most associated with: a sleigh. Now, we're not knocking sleighs -- we like their ability to take on snow, we like the whole jingle bell thing, and we're big reindeer fans -- but when Santa hits Southern California, sleighs very often get stuck in sand. Meaning that he usually packs his surfboard. Nope, Santa and a surfboard aren't common motifs during the holidays, but they are very local and very Golden State. And you're very likely to see a few Jolly Old Elfs out on the waves if you look in the right place on the right day. A right place/right day situation is coming up, too: Laguna Niguel is the place and Saturday, Nov. 17 is the place. A number of Kris Kringles will be heading out ride the waves of Salt Creek Beach and raise funds for Surfers Healing, a foundation for autism.
Want just watch? You can. Want to register? That opens at 7 a.m. Want to look back at a past year? Here you go, surfing Santa fans. Watching this video makes us realize how hard it is to keep a traditional Santa suit on in the water. Impressive.