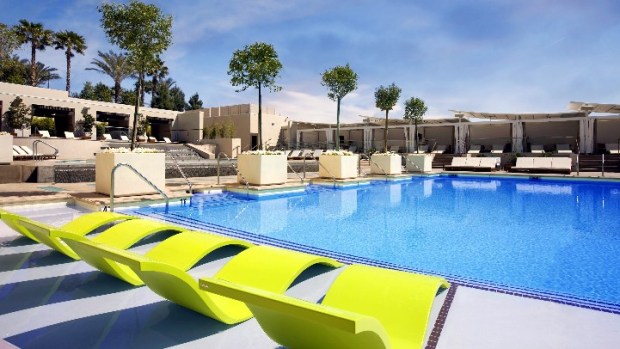 Wet Republic
Heading for Las Vegas this summer? Pack your suit.
TIME MANAGEMENT: When you pay Las Vegas a visit in the middle of summertime -- as so many Californians do, 100+ temps or not -- there are questions of where to schedule your time and put your energies. Basically you can break those questions down as such: Do you spend time in a highly air-conditioned casino or show? Or do you find a lounge and hold court at a spectacular pool for the better part of the day? It just so happens that Vegas does run hot and cold, and there are fans of both. Us? We have to put in poolside time come summer. (Or, really, any time of the year; we've all visited Sin City on a 88-degree February day, right?) If you're looking for the same, here are a few cool dips to consider during the summer -- or later seasons -- of 2012.
CHILLED CUCUMBERS: Our definition of little luxuries and a purely sybaritic day begins with chilled cucumbers sliced expressly to rest upon the eyes. Very fancy pants. Bare at Mirage has 'em, along with "iced towels rolled in flavored water" (Bare is also "toptional," we should add.) Wet Republic at MGM -- pictured above -- offers "underwater speakers." What? We want those in our pool (but first we need a pool). Mandalay Bay Beach offers its famous lazy river ride and Bellagio's Cypress Pool has, wait for it, misting butlers. We want a butler who will walk around with a mister (but first we need a butler). Feeling sybaritic and like you need some sun? To the 15 we go, dear Californians. To the 15 we go.