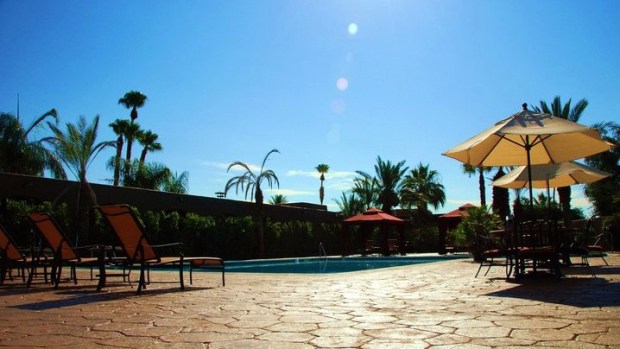 Borrego Springs Resort
This is where we want to be on Jan. 1. Oh yeah.
DESERT 2012: Do we want to wake up to a desert morning on the first day of 2012? We certainly do. (We want to wake up to a desert morning most mornings, but life/work/shopping/errands can upend that particular desire.) But we have a good chance coming up, thanks to the Borrego Springs Resort & Spa New Year's Eve party. It's a traditional to-do, complete with bubbly and dancing and comestibles. Our eye continues to fall on one particular line every time we look at the site, and that is "Chef's Selection of Starches." Heck. Yes. We've seen a few chef's dessert selections in our time, and a wine array, but never have starches gotten the spotlight. The resort has a room deal on, too, for Dec. 31. There are some asterisks, naturally, but the upshot is a room for two with the party and dinner thrown in starts at $299.
NOW, LET'S TALK SWIMMING: There's something downright sybaritic about swimming on New Year's Day. It says, I'm starting fresh and starting relaxed. Shouldn't 2012 know those things about you? The resort's pool is heated, if you're wondering. Even in the desert those nighttime temps can make water chilly. So, there's the plan: starches and bubbly in the evening, handstands and cannonballs in the morning. Done and done.