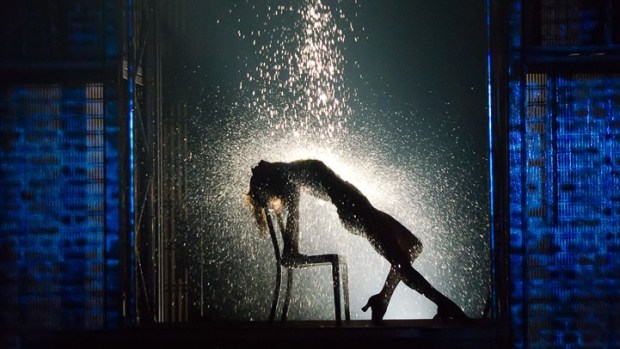 Kyle Froman
"Flashdance -- The Musical" is at the Segerstrom through Sunday, May 19. Love everything '80s? Get to the center early for the nightly party.
THE OUTLANDISH DECADE: When people were donning acid wash jeans and Day-Glo leg warmers and stretchy bracelets back in the middle of the 1980s, were they secretly thinking to themselves "one day someone will be donning this stuff, for a laugh, to go to a costume party." Probably not, right? But then we never think that during the time we're in. The fact is that something we're all wearing this very instant could be a common costume accessory in twenty or thirty years time. The famous "Flashdance" sweatshirt, the one that hangs off Jennifer Beals' shoulder, was the epitome of chic when the dance-drama debuted in 1983, but today such a sweater is, well, immediate shorthand for 1983. Bet you'll see a few of those sweatshirts out, as well as the heavily moussed hair and pegged jeans, at the Segerstrom Center for the Arts throughout the middle of May. "Flashdance -- The Musical" is playing, and the center is throwing an '80s bash before each performance.
"MANIAC" POSE AND MORE: The highlight of the bash will likely be the photo area, where theater goers can do the film's most oft-repeated pose (picture a chair and a lot of water). Rather than H2O, though, the water will be streamers, insuring that you don't have to sit in a soggy skirt for the whole evening. Music, games, and other '80s-style ephemera will rule the pre-show. Got your sweatshirt with the cut-out neckline? Make for Costa Mesa before the show dances away on Sunday, May 19.