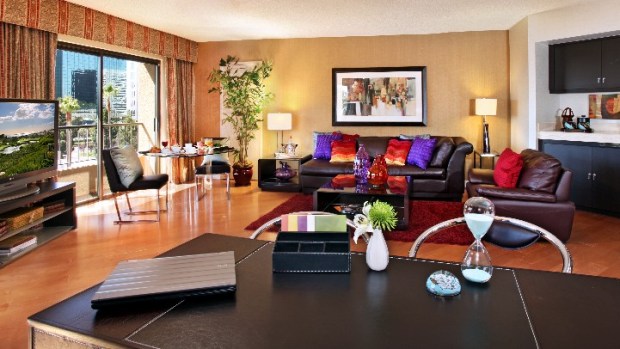 Wyndham OC
Wyndham Orange County will offer a "Mamma Mia"-related package during the show's Segerstrom Hall run.
MUSICAL NIGHT: A hotel-theater pairing is a pairing we support. After all, sometimes one does not want to drive home at the end of the night, especially if that night has involved a lot of toe-tappery and hand-clappery and murmuring along with ABBA-spunky lyrics. And if home is an hour or more away? Yeah. Best find a local spot to bed down. The Wyndham in Costa Mesa could be just that spot for "Mamma Mia!" fans come late June, thanks to a musical package its currently offering.
DIVA DETAILS: Book the "Mamma Mia!" at the Wyndham and get two VIP tickets to the Segerstrom Center for the Arts-based production. A suite for a night, an ABBA CD, parking, and a dinner -- the hotel says it is themed to the show, so let your imagination reel with that one -- are all part of the package. There are other pluses to boot, and everything starts at $300. So, moon boots? Big-collared sequined jackets? You're dressing for this big night, right? "Mamma Mia!" opens on June 21, so you don't have too much time to get ready. Better start.