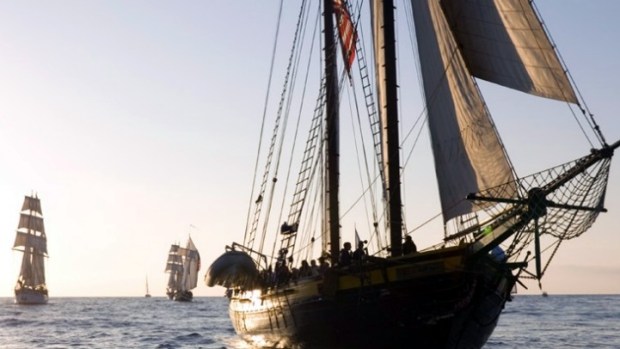 Tall Ships Toshiba
The Toshiba Tall Ships Festival pulls out the cannons -- for show and pomp, natch -- in Dana Point from Friday, Sept. 7 through Sunday, Sept. 9.
SAILING SEPTEMBER: There are no lack of interesting, historic, or speed-blessed sailing events in our state, given that we have a few miles of beautiful coastline. But September is a particular high tide for people who adore massive masts and striking bows and peppering their conversations with words like "starboard" and "ahoy." The San Diego Maritime Museum throws the out-sized Festival of Sail over Labor Day Weekend and then, soon after, Dana Point welcomes the Toshiba Tall Ships Festival. The Toshiba Tall Ships is, masts down, one of the premiere tall ships gatherings on the west coast, and perhaps beyond. Here are the facts: Nine ships will gather in Dana Point on Friday, Sept. 7 for the sunset parade. Is this one of the most photographed events in the area? You can bet many people have their cameras out, given the light and the grandeur. But the ships, which hail from up and down the coast, will hang out through the weekend -- if indeed a ship is said to "hang out" -- ferrying people out into the Pacific (well, not too far out), engaging in cannon battles, and opening for on-deck tours.
DATES: The dates are Friday, Sept. 7 through Sunday, Sept. 9 -- as mentioned, the sunset parade is Sept. 7, if you definitely can't miss it -- and the ships tall, gorgeous, and come bearing the best names: The Spirit of Dana Point, The Brig Pilgrim, Curlew, and Bill of Rights will all be in the area. Costs will vary for different happenings, and, oh -- there's sea-worthy stuff to do on shore, too, should be a committed landlubber.