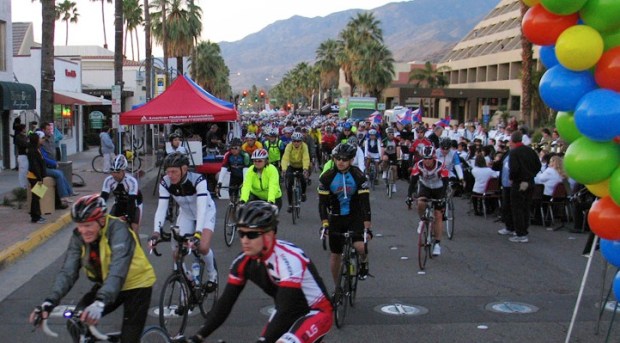 Tour de Palm Springs
Tour de Palm Springs, and all of its various rides, roll on Saturday, Feb. 9.
DESERT WHEELS: Coachella Valley's month, in many a mind, is April. Perhaps it is because the temp is just about perfect -- days are getting summerlike, or at least summerlike for other places -- and a certain music and art festival makes the populations well. But some prefer the area in winter, when nighttime lows can really do that brisk, dipping thing (people who've never been to a desert sometimes don't fully get why it isn't *always* hot) and daytimes are 100% pure gorgeousness. That's the time of year that the Riverside County Fair rolls in Indio, with all of its dately deliciousness, and that's the time of year for Tour de Palm Springs, one of the prettiest desert-vista rides around. And we do mean rides; the Tour isn't merely one big mondo ride for experienced pedalers but a cornucopia of rolls for every level, age, and experience.
SATURDAY, FEB. 9: That's the date the 15th annual Tour will roll in 2013, and the bevy of rides to choose from is ample: There's an easy-breezy mile for those just starting out on their first group ride, and there's the 100-mile, which involves some hills. Of course, there are a few rides in-between, which is where most riders will likely land. It's a convivial, outdoors-loving kind of day, with a strong dose of Coachella boosterism in the happy mix. And given that the valley is truly one of the sometimes unsung treasures of the Golden State, we should all make a point to visit more often, perhaps for a ginormous music festival, or perhaps to pedal by some arid hills shadowed by the occasional passing cloud. Desert scenery, we love you.