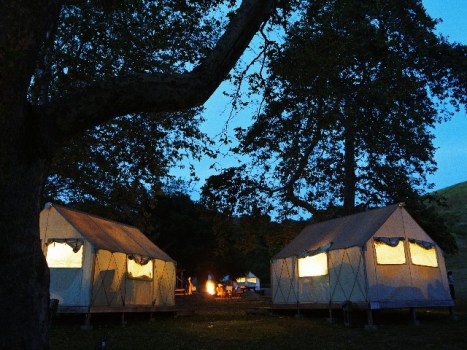 Steven Lam
El Capitan Canyon's Fireside Dinner Package will now run through Feb. 28, 2011.
WINTERTIME CAMP-OUT: El Capitan Canyon Campground near Santa Barbara has a habit of ending up on glossy magazine covers, which is a pretty good habit as far as habits go. Reason for all those covers? The property's posh tents and cozy cabins are highly photographable and the packages? Talkaboutable. And we just heard that the Fireside Dinner Package, an El Capitan deal that's caught our eye in the past, as been extended.
S'MORES TO BBQ: If a package has a feature that's chocolate-graham cracker-marshmallow-based, we start there. The Fireside Dinner Package does indeed offer a Canyon S'mores Kit, in addition to Barbeque Kit. Meaning you can be outdoorsy and make your own meal. You can s'more-it-up through Feb. 28, 2011; prices/specifics here.