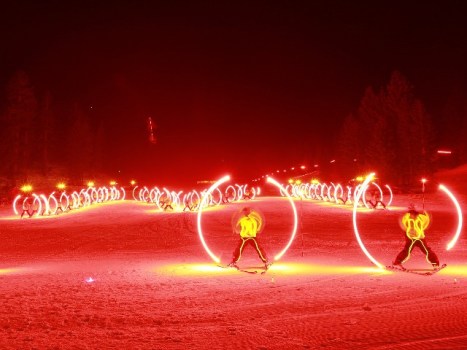 Mammoth Mountain
Mammoth Mountain's Night of Lights will swoosh on Saturday, Dec. 18.
SNOWY SPARKLE: The annual torchlight parade -- the on-skis procession down mountainsides from here to Vermont -- is a favorite, well, just about everywhere. It's a signaller of the holidays, and often of New Year's Eve, but we're happy that Mammoth is getting the sparkle going a wee bit early for 2010. The resort's Night of Lights will be swooshing down the icy slopes on Saturday, Dec. 18.
MITTENS AND MEMORIES: The only tricky part will be snapping photos, which you'll want to, with your bulky ski gloves on. Torchlight parades are much-snapped for a reason. But keep your gloves on -- it is chilly after dark up there, and before dark, too -- and enjoy fireworks, music, and a special appearance by the Red Bull Airforce Skydive Team. This all goes down, literally, at the Canyon Lodge in Mammoth.