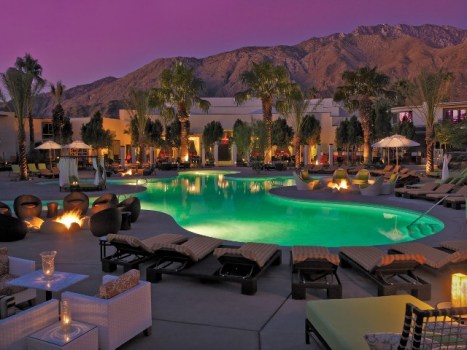 Riviera Palm Springs
Greeting 2011 at the Riviera Palm Springs.
RIVIERA TO VICEROY TO ACE: The question of whether there will be a fancy, party favor-laden to-do at several of the big Palm Springs resort isn't really the question. The question is where do you want to go and what kind of bash do you want. The Riviera is doing a 2011 VIP New Year's Eve, complete with variously priced packages (we see the word "charcuterie" on one, which is a tasty word indeed). The Viceroy's soiree will have a complimentary Champagne toast, and tunes tunes tunes. And the Ace? Why, they're burning shrubbery in a spirited welcome to 2011. Of course. And Rancho Las Palmas in Rancho Mirage will have a kids-definitely-welcome buffet, in addition to the late-night party proceedings. Get details now.