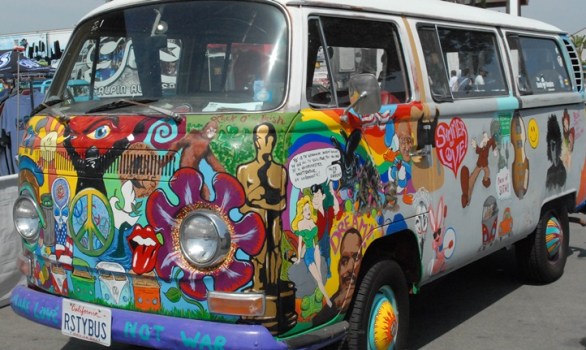 OC Marketplace
Costa Mesa's OC Marketplace makes for Woodstock -- in spirit, at least -- on Saturday, July 5 and Sunday, July 6.
THAT TIE-DYED SPIRIT: No one would argue against the notion that a certain love-and-let-live spirit still reigns in the Golden State. We were home to Haight Ashbury and the Summer of Love and all of the guitar-wielding poets of Laurel Canyon, of course, so Woodstock, though it be across the country, is a place we understand as it were located right next door. Maybe it is because the most indelible places are less a location and more of a lasting way of life and approach to human relations. Maybe it was the music and art of Woodstock. Or maybe it was all of that tie-dye that's nearly synonymous with the small New York State town. Whatever the reason, Californians get it, which makes the annual Woodstock throwback celebration at the OC Marketplace pretty, like, major, man (or insert the time-burnished, charmingly burnished Woodstockian saying of your choice). It's on again over the first weekend in July, Saturday, July 5 and Sunday, July 6 in Costa Mesa. Yes indeedy, that's a full month and a few days before Woodstock's actual August anniversary, but living Woodstock means observing those peach, love, and harmony tenets all year long.
VWs AND TRIBUTE BANDS: The vintage Volkswagen Bugs and Buses'll once again roll onto the grounds at the OC Fair & Event Center, and stilt walkers, tie-dyed artists, and Wavy Davy, the Tie-Dyed Guy'll be lending swirly flavor to the throwback proceedings. Food trucks, face-painting, and Aquarius and The Who Revue'll play over the two-day '60s fest. And should you come in your own flare-bottom jeans and tiny round sunglasses and bowler hat and fringe vest? Naturally. Leave the khakis and button-down at home for the day. Food trucks'll be on the grounds, though where you'll get granola and other staples of '69 is a question mark. Maybe just stick with the casual-chic grub of 2014 while living that Woodstocky vibe.