worth the drive
Zip by Night: A Catalina Island Adventure
Get a different view of the hilly burg as evening falls (and you zoom).
Friday, Aug 15, 2014 • Updated 5:22 PM PDT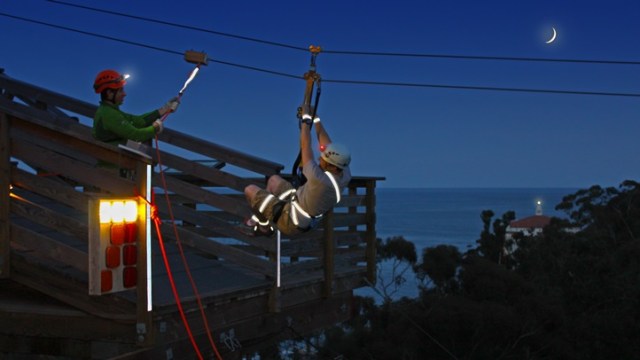 Santa Catalina Island Company
You, the moon, Catalina Island, a zip line: The nighttime zip line adventures start back up on everyone's favorite 22-miles-from-the-mainland burg.
UP IN THE EVENING AIR: A committed zip-liner'll vow that each trip is a distinct and individual one. Maybe the sunlight looks rather different on the trees or distant water or a new bird is spied or perhaps you just laugh your head off the whole time (or make the appropriate exuberant noises). But those zip trips? They tend to happen in the daytime, when the land is well-lit and the air is warm. What might it be like at night? A fine question, though sometimes a fruitless one: Not every zip line operates after-hours. But, every so often, one ventures into evening runs, and when that zip happens to be nestled alongside the ocean, the atmospheric result can be pretty spectacular. We speak of the zip line operated by the Santa Catalina Island Company. Yes, it is indeed on Catalina, and, for sure, it is close enough to the ocean that you'll have some solid glimpses as you fly, and absolutely, you will be taking on beautiful Descanso Canyon at speeds of up to 45 mph. By night. We mentioned the night bit of this a few times, right? It's nifty and cool. Only bats and planes fly by night (well, okay, and a few other things, too, of course, like Catalina's famous flying fish).
GET EDUCATED: The adventure isn't merely about sailing along, connected to a line, at some 300 feet off the ground in certain parts. "(G)uests will pause at several eco-stations along the way where they will be given a presentation on some of the unique and interesting aspects of Catalina Island, its wildlife, history, and local areas." Just be prepared for "minimal lighting" between the stations and get ready to be geared-up with head lamps and reflective strips. Call it a new way to zip line, if you've only ever done the daytime, and call it a mysterious but ultimately info-packed way to take in a slice of the wilder island. It happens Fridays through Sundays and costs $125 a person.
Copyright NBC Owned Television Stations