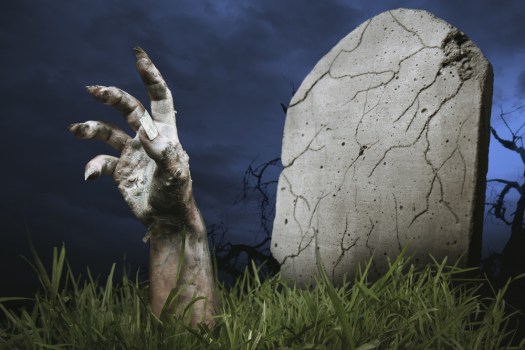 Shutterstock
Zombies will walk in San Diego on Saturday, July 23.
HONEST? We want to go on record as saying that we think zombies and superheroes can get along. Think? Know. They have a lot of common ground, right? They both have unusual ways of getting from point A to point B (zombies get draggy, superheroes tend to fly). They have their own catchphrases (zombies moan, for the most part, while superheroes say something shiny like "up and onward"). And both are famously persistent, whether their activity is scratching at the door of a haunted house or saving Metropolis. See? Commonalities. Which is why we're hoping that the participants of the Superhero Pub Crawl and Zombie Walk, two separate, Comic-Con-close events which are scheduled for Saturday, July 23, will mingle well.
THE DETAILS: Not only are we taking a shine to these two events because, well, um, superheroes and zombies fascinate, but we like it because it gets people out of the convention center for a few hours. Oh, we love being on the con floor, we do, but anyone who has been Comic-Con-ing for a couple of days needs a breather. A chance to set down the bags and let go of the camera and get out of a queue and raise some heck in San Diego proper. Donning a cape and heading out with several other similarly attired people for a brewsky charms. Our only question is can you do *both* the zombie walk and superhero event? Have a change of outfit ready? That is Comic-Con-style pluck.