Bears Visit Sierra Madre Neighborhood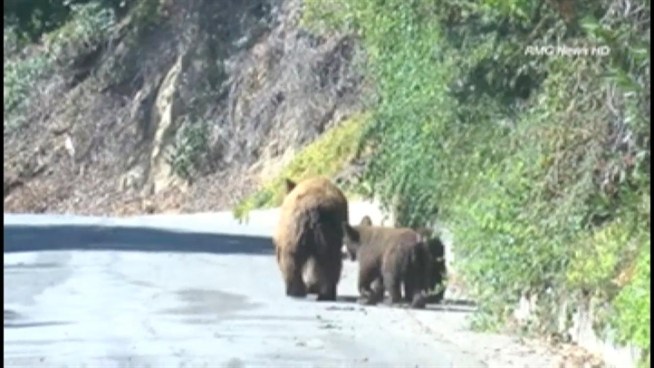 A mother bear and two cubs wandered into a Sierra Madre neighborhood on Sunday. It isn't entirely uncommon for bears to visit SoCal's foothill neighborhoods.
A Sierra Madre neighborhood had some unexpected visitors on Sunday morning: a mother bear and two cubs.
They climbed some trees and ate avocados and berries. The cubs looked wet, so it's possible they took a dip in a neighborhood pool, authorities said.
Officers were able to direct the bears back to the wilderness.
Southern California's foothill communities are no strangers to ursine visitors. The bears often come down from the Angeles National Forest looking for food and water.
Perhaps the most famous neighborhood bear was "Meatball," also known as "Glen Bearian" in nearby Glendale. That bear's visits became so frequent - once pilfering meatballs from a garage refrigerator - that he had to be lured with a trail of french fries and bacon, sedated and taken to an animal sanctuary.
Meatball will feature prominently in Glendale's 100th entry in the Rose Parade. The float will celebrate other native wildlife, as well.