Insurance Tips Offered to Residents Fleeing SoCal Brush Fires
Evacuees should record all of their expenses and losses to maximize their claims, officials said.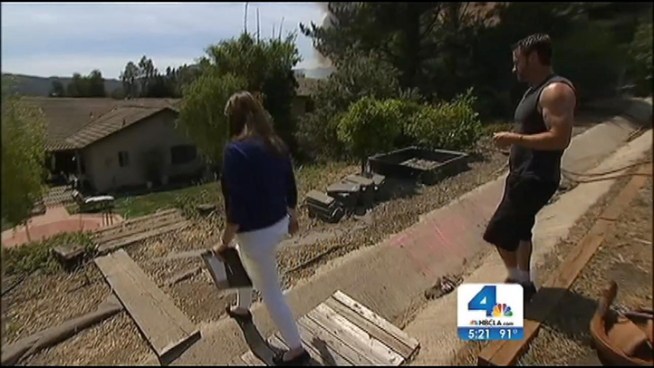 Ana Garcia
Carl Campbell's home was just a few feet from the flames of the Springs Fire in Newbury Park. His house wasn't burned, but there was smoke damage. To maximize your payout on an insurance claim, keep a hard copy of all documentation and keep detailed notes of correspondence with the insurance company. Ana Garcia reports for the NBC4 News at 5 p.m. on May 3, 2013.
As wind-driven wildfires rush toward homes and force evacuations in Los Angeles and Ventura counties, state officials urged residents Friday to take full advantage of their insurance policies.
"Families are already fearful of losing everything they own, they should not worry about paying for hotels, meals and other incidentals," California Insurance Commissioner Dave Jones said in a written statement. "Many homeowners' insurance policies cover the additional living expenses incurred by a mandatory evacuation."
The insurance commissioner's office reminded residents to prepare for wildfires by making sure their insurance policies are up-to-date and conducting home inventories with photos and detailed descriptions of property.
Carl Campbell of Newbury Park, whose home received smoke damage, told NBC4 he worried about filing an insurance claim for fear his rates would go up.
He said he backed up his computer data on hard drives and put them into a fire safe.
To maximize your payout on a claim, officials offered some tips:
Keep hard copies of all your documentation, or store it in the cloud and/or on a flash drive.
Keep detailed notes of all your correspondence with the insurance company, including who you spoke with and what was discussed.
Keep a list of everything you own and detail every item you lost and file a claim for each.
Keep receipts of every penny you spend on food, lodging, and clothing while you are displaced, or else you won't be fully reimbursed.