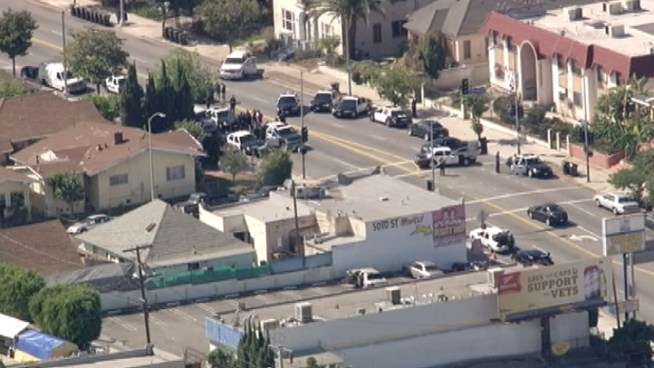 Aerial view of a search area in Boyle Heights after a jewelry store robbery in downtown Los Angeles.
At least three subjects were in custody Monday after a jewelry store heist in downtown Los Angeles that led to a police pursuit and search in the Boyle Heights area.
Police continued to search for at least two other subjects near Soto Street and Malabar Street. Aerial video showed several squad cars at the location and officers on rooftops
The LAPD received a report of a robbery at a jewelry store as the business was opening Monday morning. Officers responded to the store in the 800 block of Broadway.
The subjects shot out a glass jewelry store display case, according to the store owner. The report led to a brief freeway pursuit that entered the Boyle Heights area at about noon.
Six subjects were involved in the robbery, according to police.
No injuries were reported.
Refresh this page for updates.