Saturday, Sep 8, 2012 | Updated 6:39 PM PDT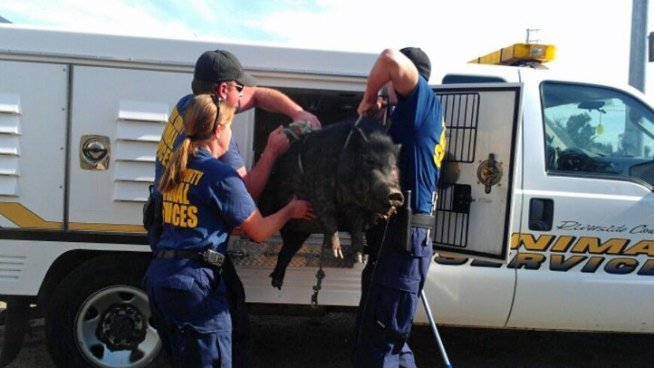 Riverside County Animal Services
Animal control officers load a potbellied pig into a truck after it apparently got loose and blocked traffic on Highway 91.
A potbellied pig that somehow ran loose on westbound Highway 91 was tranquilized by a Riverside County animal control officer today, it was reported.
The officer, Lt. Chris Mayer of the county's Animal Services, tranquilized the animal near the Central Avenue offramp, according to officials.
The animal was being taken to the Western County-City Animal Shelter in Jurupa Valley, Riverside County Animal Services public information officer John Welsh said.
Early reports said that traffic was not affected, but Welsh said the runaway pig forced the California Highway Patrol to shut down westbound traffic on Highway 91 for an unspecified short length of time.
Welsh said it was unknown how the animal got loose or who owns it, but the CHP reported in its website that the pig -- described as being about 300 pounds -- fell off a truck.