Vin Scully to Return Next Season
Scully announced during Friday night's game he will be back for his 63rd year with the Dodgers.
Saturday, Aug 27, 2011 | Updated 10:19 AM PDT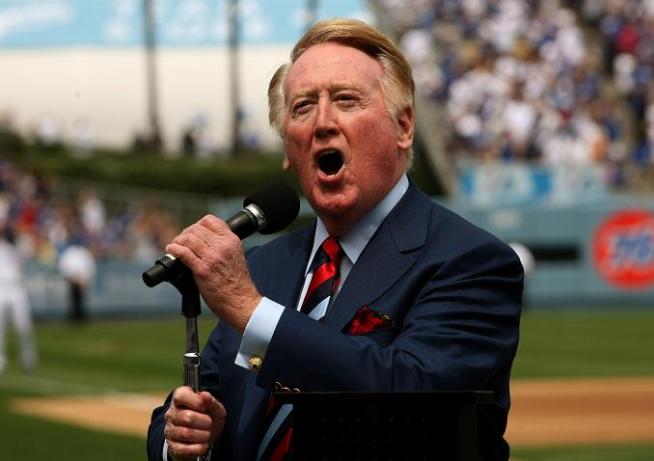 Getty Images
LOS ANGELES - APRIL 13: Dodgers broadcaster Vin Skully gives the call of "It's time for Dodger baseball!" during pregame ceremonies for the Los Angeles Dodgers home opener against the San Francisco Giants on April 13, 2009 at Dodger Stadiium in Los Angeles, California. (Photo by Stephen Dunn/Getty Images)
Vin Scully is coming back to the broadcast booth for his record 63rd season with the Los Angeles Dodgers in 2012.
Scully,83, told television viewers during Friday night's game that he will return to call all home games and select road games.
"Every year at this time of year, a nice lady in Woodland Hills named Mrs. Marti Squires sends me some chocolate-chip cookies," Scully said, holding up two cookies to the TV audience. "This year, when she sent them in the letter, it said, 'This is a bribe to get you to come back next year.' Well, I don't want to make a big deal out of it, you and I have been friends for a long time. But after a lot of soul-searching and a few prayers, and deciding that maybe we can do it, we have decided that we will come back with the Dodgers for next year."
Scully calls all nine innings of the team's TV broadcasts and the first three innings of each of his games are simulcast on radio.
Scully's 62 years of consecutive work for the Dodgers are the longest of any current broadcaster with any team. He was inducted into the Baseball Hall of Fame in 1982.