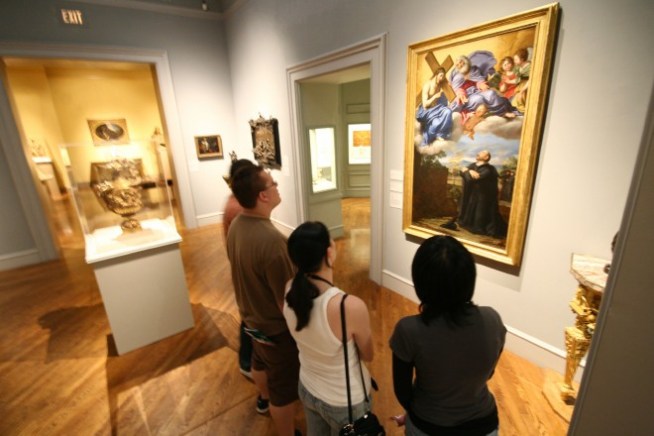 Brant Brogan
Dozens of spot to eye art (including LACMA) open their doors to the strolling public, on Saturday, November 15.
The Miracle Mile Art Walk is a big walk, covering big art, but you can do it. No, seriously. A lot of the participating galleries are centered around the Los Angeles County Museum of Art, but the spread is wide enough to feel as if you've covered ground (don't forget Adamson-Duvannes over on San Vicente, or the MAK Center on Kings Road).
The spread of art styles/genres/themes is impressive, too: highlights include Melanie Pullen's "Violent Times" at the Ace Gallery, and A Machine Project: Field Guide to LACMA, going on from noon-10PM today around the museum's extensive grounds. We made an early swing by this event and found ourselves following a piece of string, wound through Hancock Park, for several minutes; mysterious indeed. The drummers riding the elevators up and down in the Ahmanson Building were also quite a sight (and sound).
Michael Kohn Gallery is the host of the day. Saturday, November 15, 1-6PM. Centered around the Wilshire/Fairfax corridor and Beverly/La Brea (check site for official map)