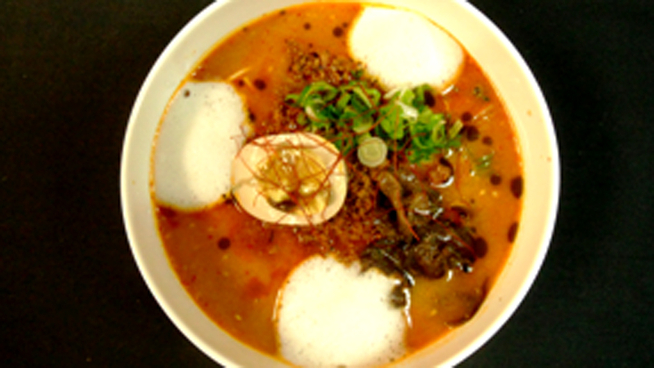 Spice things up a bit with Spicy Beef Noodles from BreadBar on West 3rd.
Spicy Ramen by Chef Noriyuki Sugie (Ironnori Concepts)
Serves 1
Ingredients:
• 1 pack Instant Ramen Noodles (or egg or rice noodles)
• 3 oz. Ground Meat (Pork, Beef, Chicken)
• 1 teaspoon Sesame Oil
• 1 clove Fresh Garlic, finely chopped
• 1 tablespoon Fresh Ginger, finely chopped
• 2 tablespoons Chili Paste or Powder (found at Asian markets)
• ½ tablespoon Green Onions, sliced
• ½ tablespoon Sugar
• Splash of white/clear sake
• Salt & Pepper, to taste
• Broth (Vegetable, Beef, Pork or Chicken)
For the soup:
1. Use a small sauté pan to heat sesame oil over medium heat for two minutes
2. Add garlic, ginger, and ground meat.
3. Add chili paste or powder, sugar, salt, and pepper.
4. Cook noodles according to package and pour into a ramen bowl.
5. Add splash of sake
6. Add desired amount of broth
7. Top the soup with the spicy meat mixture and green onions. Serve immediately.
OPTIONAL: Add sliced Soy-Marinated Poached Egg (see separate recipe)