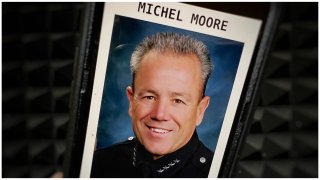 A judge Wednesday denied the City of Los Angeles' latest legal effort to seize a flash drive from a reporter that contained identifying information of some LAPD officers who may work in undercover assignments.
LA Superior Court Judge Mitchell L. Beckloff said the City had failed to meet the legal standard for a, "writ of possession," a court order that would force the reporter, Ben Camacho, to return a small USB memory stick that the City loaded with the names and photos of more than 9,000 officers last fall.
"The admissible evidence submitted by the City to support its application does not provide any support whatsoever to its claim the material LAPD provided on the flash drive given to Defendant Camacho contains photographs and/or images of LAPD officers working in an undercover capacity," Judge Beckloff said in the ruling.
The same judge previously denied the City's request for an emergency restraining order against Camacho and a group of police critics that had obtained and published a directory of the officers' photos online.
The City began in April to demand the 'return' of the files and sued Camacho and the critics, the "Stop LAPD Spying Coalition," because it said the files included the names and photos of some officers who worked in undercover roles.
"This is a matter of grave concern for individual officers, for the Police Department, for our City, and for the people and communities that our police officers protect and serve," wrote Deputy City Attorney Felix Lebron, who also said Camacho and the Coalition have, "no right to possess," the data in question.
In denying the request for the writ of possession, Judge Beckloff also said the City had failed to identify which of its officers served in undercover assignments, or how the City defined those positions, and during the hearing Wednesday, repeatedly asked deputy City Attorney Joseph Persoff why the City had not presented direct evidence to support its legal demands.
"The City elected here not to present any admissible evidence about what's on the flash drive," Judge Beckloff said, finalizing a ruling that denied the City's request.
In April private attorneys who said they represented more than 300 LAPD officers filed an initial legal action against the City, claiming the photo release had endangered their lives.
"This presents a significant threat to the citizens of Los Angeles," said attorney Matthew McNicholas, who's West LA law firm represents dozens of other officers in unrelated lawsuits against the City.
Mayor Karen Bass, who has repeatedly described the City's release of the photos as a, "leak," said last month she worried the publication of the photos would cause more officers to retire early because they could be publicly identified.