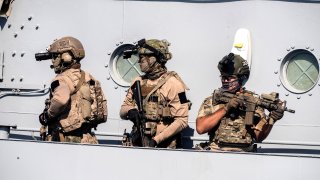 A Navy SEAL candidate died Friday and a second was hospitalized in San Diego after completing what is known as Hell Week, an initial, grueling phase of the training for one of America's most elite military units.
NBC News is withholding the name of the dead trainee because the Navy said his family has not yet been notified. In a statement, Naval Special Warfare command said the death is under investigation.
The statement said the two SEAL candidates were taken to the hospital Friday "several hours after their Basic Underwater Demolition SEAL (BUD/S) class successfully completed Hell Week, part of the first phase of the Navy SEAL assessment and selection pathway. One candidate died at Sharp Coronado Hospital in Coronado, California, on Feb. 4. The other candidate is in stable condition at Naval Medical Center San Diego."
The sailors were not actively training when they reported symptoms and were transported to receive emergency care, the statement said.
Read the full story at NBCNews.