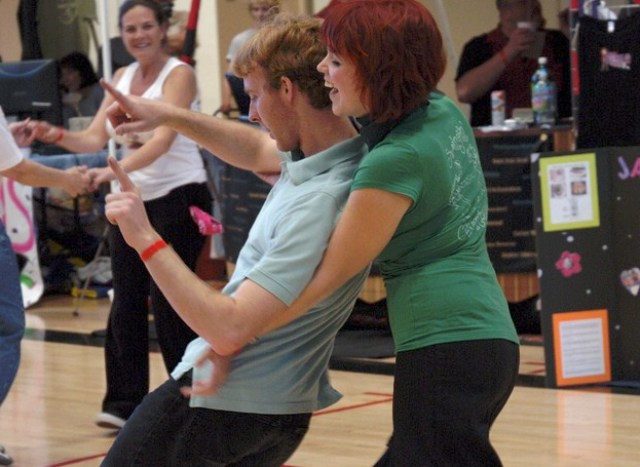 Let's get this out of the way. The Dance-A-Thon people put this up front, and we feel it is important, too: If you join the 24-Hour Cancer Dance-A-Thon on March 13 and 14, you do not have to be out on the floor doing the shimmy for a full day.
There will be time for resting. There will be bathroom breaks. But, don't breathe a sigh just yet; you'll need a member of your team samba-ing at all times.
Okay, done. Relaxed? Good.
The 24-Hour Cancer Dance-A-Thon is doing two commendable things at the very same time. One, it is putting together donations for City of Hope, for cancer research and treatments; the site is listing some money raised already, and the amounts are impressive. And two, the all-night party is hearkening back to an outlandish event that peaked in popularity a half century ago.
Shouldn't dance-a-thons make a comeback? Really, any concept ending in "a-thon" deserves a second look.
It's happening in Irvine at 24-Hour Fitness (another thing with "24 Hour" in the title -- easy to remember). There will be live band music in addition to DJs. There will be swing dancing and dressing up and red lipstick and high style and comfortable style. There will be lessons. And energy-lending eats (pasta is promised; got to take in those carbs).
Everything starts at 11 on Saturday, and ends at noon on Sunday (you remembered that March 14, 2010, is Daylight Saving, yes?) and we can only imagine that being there, swinging, at 3:17 a.m., will be something of a surreal, happy dream.
Copyright FREEL - NBC Local Media