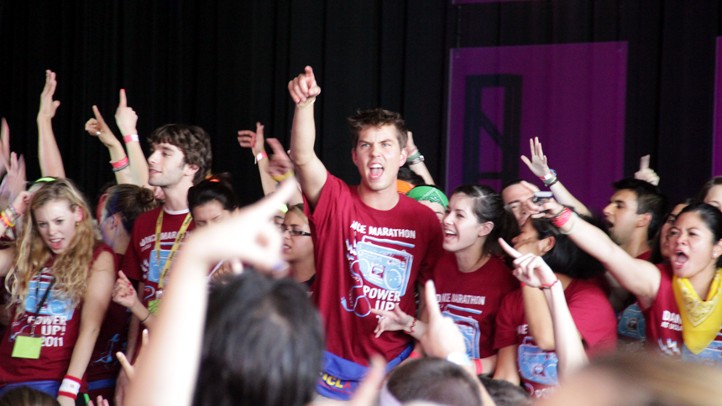 There was a day when the day-long dance marathon ruled Los Angeles.
Or at least some of our city's more cavernous dance halls. The Venice Dance Hall at the Venice Pier was a massive building where literally thousands of people could be on the floor at once, oh, in the earlier part of the last century. And those people were often clutching each other in a slow sway as part of a marathon. Hour 13. Hour 14. Hour 15 zzzz....
But while era of the dance marathon craze is over, they do still turn up from time to time, most notably at UCLA. That's because for the last decade -- well, decade plus a year -- students have participated in a mega-marathon to raise money for the Elizabeth Glaser Pediatric AIDS Foundation.
This year's dance-a-thon is scheduled for Saturday, Feb. 18 and Sunday, Feb. 19.
Now, we did list two days there but there are not two marathons. That is, in fact, one marathon. It'll stretch for 26 hours. Hoo boy. Students? Get your Friday naps in (but we are in no way encouraging you to skip class; you gotta go to class).
You can support a particular dancer or team, or just donate in general. The dance marathon Facebook page calls it the "largest student-run philanthrophy event on the West Coast." It's raised well over a million dollars, too, says the page, since it began.
We're kind of hoping that some of the participants dance in bobby socks and pin curls, a la Jane Fonda in "They Shoot Horses, Don't They?," which is, arguably, just about the most famous dance marathon movie out there. But we have a feeling they'll dress for comfort, in tees and shorts. That's cool. Just as long as they keep dancing and racking up the bucks for a really important cause.
Follow NBCLA for the latest LA news, events and entertainment: Twitter: @NBCLA // Facebook: NBCLA
Copyright FREEL - NBC Local Media