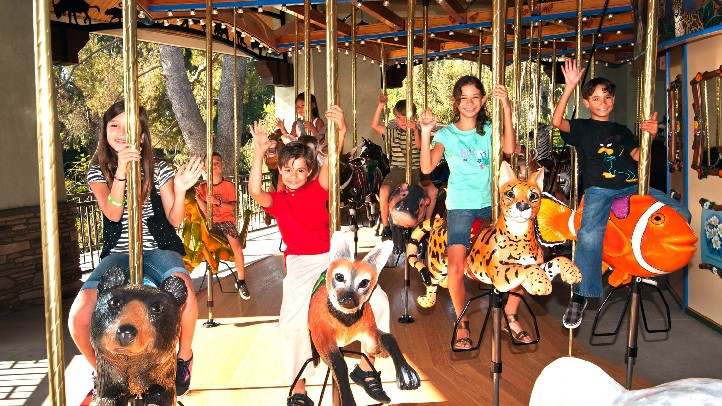 The Tom Mankiewicz Conservation Carousel, which will debut at the Los Angeles Zoo on Thursday, Oct. 27, has so many interesting and colorful stories and facts swirling about it that it is hard to know where to begin.
Well, we want to begin with the dung beetle, but we'll save him for the moment.
Let's start with the carousel's namesake and his ties to James Bond, shall we? Mr. Mankiewicz, who passed away in 2010, was a writer on "Diamonds Are Forever" and "Live and Let Die."
There are many major screenwriting credits in this world, but let's be honest: James Bond is just way up there. Fact.
Mr. Mankiewicz was also a friend to the LA Zoo and an advocate for conservation; he also, as chairman of the Greater Los Angeles Zoo Association board for many years, wanted a carousel in the zoo. Nice. Think of that next time you watch one of the two films mentioned above. (We're trying to remember; was there a carousel in either? A merry-go-round actually seems rather Bondian.)
The carousel features more than 40 hand-carved animals commissioned especially for this project.
What do the animals all have in common, beyond the fact that many of their real-life counterparts call the zoo home?
Several are on endangered species lists. Many generous benefactors stepped in to support various carousel animals -- beasties such as a komodo dragon or a poison dart frog or a mountain tapir. The dung beetle chariot is still our favorite.
Let those words sit in your head for a moment longer. Dung. Beetle. Chariot. Oh yeah. Why can't we have one of those in the den?
Also of interest? The carousel's art will showcase a lot of Golden State flora and fauna. And the music?
Not old-school calliope. Oh, no sir. Get ready to ride the poison dart frog as you listen to Joe Cocker, Janet Jackson, and the Police.
In short, there's nothing not interesting about this carousel, and its message is a positive one: know your endangered wildlife and work to protect and educate. If a happy ride on a whimsical wooden snow leopard can inspire a child in this direction, even better.
GLAZA tells us there are still a few animals available for sponsorship. Interested?
Follow NBCLA for the latest LA news, events and entertainment: Twitter: @NBCLA // Facebook: NBCLA
Copyright FREEL - NBC Local Media