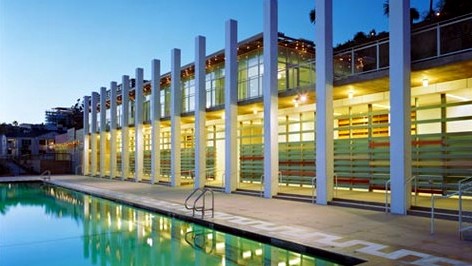 With the arrival of the middle of August -- which we are most surely in -- one starts to see a lot of picnics and barbecues pop up. They're usually marking a youngster going back to school, or a grad student leaving for college, or some other academic who'll be starting a new chapter this fall.
But what if you're not necessarily beginning a new chapter? What if you still have your job and your family and your pad and your cat and it is all good? You still want a summer-ender of a bash, we're betting. And you can have that, if you're of the grown-up ilk, at the Annenberg Community Beach House on Thursday, Aug. 18.
The Santa Monica swimming pool is feting the non-water-wing-wearing set (although if you're a grown-up and you want to wear an inflatable ring shaped like a dinosaur, we say go for it). The Martini Kings will be providing the music, there will be complimentary shave ice, and a "poolside dinner menu" will be available in case you can't grab a bite after leaving the office.
Bonus: the Pacific. It's right there. You know that. You and the Pacific go way back, we expect? The Pacific goes way back with a lot of people. Which is as it should be.
It's $15, and $5 for parking, and you can reserve in advance. Fall's coming, is all we're saying. Get your warm weather bashes in now.
Copyright FREEL - NBC Local Media