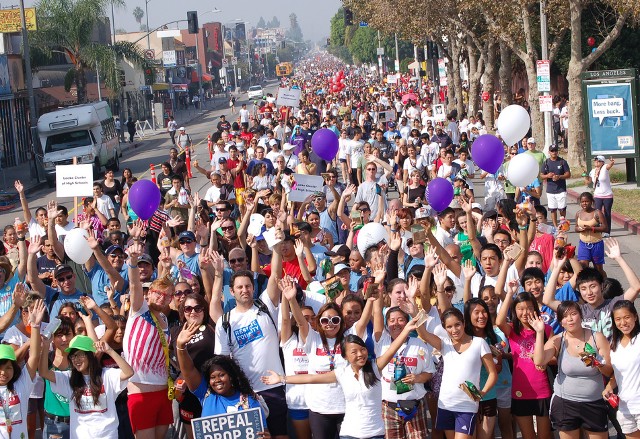 When dealing with an event as large as AIDS Walk Los Angeles, an annual coming-together that draws thousands of devoted supporters and even more people who support those devoted supporters, it is, of course, easy to turn to the numbers.
Like the number of years AIDS Walk has been taking to the streets to raise money and awareness: 26. Like the number of people who turn out on a Sunday morning, in tennies and bright tees, to show they care: 30,000+, at last count. Like the number of miles covered: just over six. Like the money raised in 2009: $3,000,000.
Impressive numbers, all, but the story behind them is much bigger. And that story can't be boiled down, of course, but at its heart is heart, and the reaching out to our friends and neighbors who are living with HIV, as well as the friends and neighbors who know and love someone living with HIV. Reaching out in myriad important ways.
The 2010 walk steps off at 10 a.m. from West Hollywood Park on San Vicente on Sunday, Oct. 17. If you are walking, you'll want to arrive well in advance of that hour, to hear a few inspirational speeches and do a few necessary stretches. And to find your team, of course.
Celebrities always turn out for the walk, and this year's roster includes Drew Carey, Ana Ortiz, and Carson Kressley.
If you aren't walking, or supporting a walker through donations, you can donate at the AIDS Walk Los Angeles site, any time you like, and find more information about AIDS Project LA, and other beneficiaries of the event.
Copyright FREEL - NBC Local Media