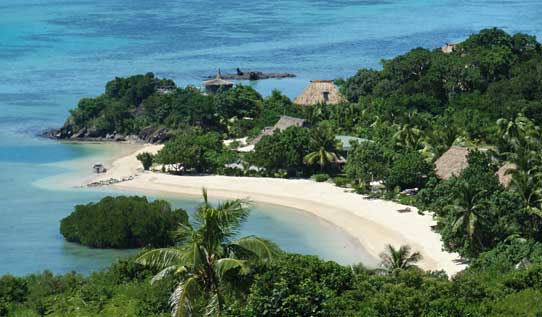 This article is sponsored by Air Pacific, an ariline serving the South Pacific for over 58 years. Learn more about Air Pacific and its affordable rates between LAX and Fiji at Airpacific.com.

Fiji might feel like one of the world's most far flung destinations, but the exotic island nation has never been closer to California residents than now.

No, we're not talking about a seismic shift that somehow pushed Fiji's 333 islands closer to the west coast. What we are talking about are non-stop flights. Lots of them.

Thanks to Air Pacific -- voted one the top 10 best small airlines in the 2011 Conde Nast Traveler Reader Choice Awards -- vacationers can hop on non-stop Fiji-bound flights four times per week out of LAX. Convenient, right? It's also affordable. From August 1, 2012 through March 31, 2013, the airline is offering an airfare deal of $1049 per person including taxes and fees, making the otherworldly archipelago the perfect destination for couples and families on a budget.

But once you've landed, how do you experience all there is to offer in a destination renowned for its breathtaking beaches, romantic resorts, friendly hospitality and dramatic topography? Thankfully, we've put together a handy to-do list for you below. Consider it your vacation itinerary.

Diving and Snorkeling: With its famed soft corals, sea turtles and mantas, not to mention crystal clear water, Fiji is a favorite destination among dive enthusiasts. Don't miss the best reefs -- Taveuni, Kadavu, Beqa Lagoon and Vanua Levu, where the diving is spectacular.

Adventure: Take a a zip lining tour of a private eco-reserve deep within the Wainadoi mountains. Fly through the tropical forests on eight zip lines, some up to 200 meters in length and 30 meters above the ground. Scared of heights? Hug the coastline aboard a kayak or a jetski.

Beaches: Though coral is the norm, there are also some beautiful, white sand beaches in Fiji. We recommend Natadola, on the big island of Viti Levu, where the water is deep enough to swim no matter the tide.

Resorts: There are a seemingly endless amount of upscale and intimate accommodations to choose from, like the affordable Westin Denarau Island Resort & Spa, where you can wile the day away at the infinity pool or the 18-hole championship golf course, or the Likuliku Lagoon Resort, a secluded, couples-only getaway and home to Fiji's only Over-Water Bures.

With complimentary inflight meals, cocktails and audio/visual entertainment in every seat, the spirit of Fijian warmth and friendliness starts the minute you board an Air Pacific flight. In addition to serving Fiji, Air Pacific flies to 15 cities in 11 countries throughout Australia, New Zealand and the South Pacific Islands, as well as Hong Kong, and offers free stopovers in Fiji for flights to Australia and New Zealand.

For more information about Fiji and to book unforgettable vacation packages, visit Fijifriendly.com.