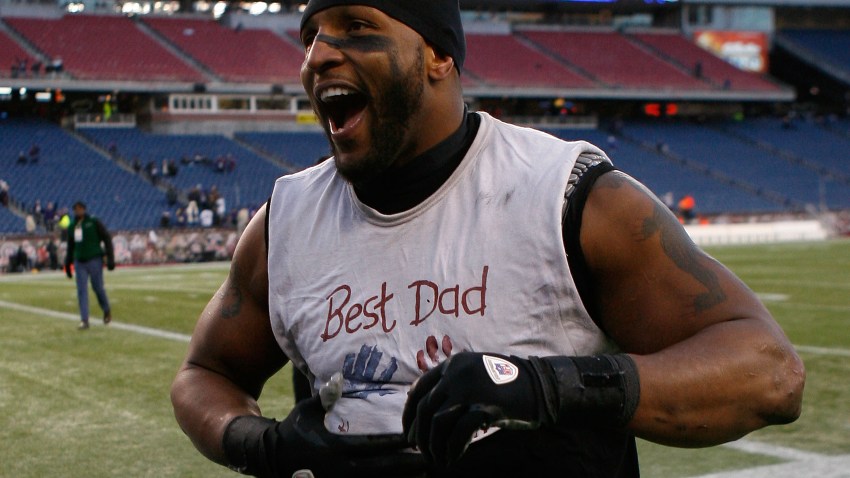 Only Ray Lewis could do it. Only he could silence a room full of people and bring them to their feet and to tears all at the same time.

But it's nothing new for the 11-time Pro Bowl Selection and two-time NFL Defensive Player of the Year.

Ray Lewis has been the emotional and physical leader of the Baltimore Ravens for the past 14 seasons and on Saturday night he was honored in very a prestigious way.

With his message of "Be the change you want to see in the world", Lewis, along with Black Equities Group CEO Bob Barth, was honored with the Golden Heart Award at the Athlete's First Classic Charity Gala which benefited Orangewood Children's Foundation.

Hundreds of supporters including current and retired NFL players gathered at the St. Regis Monarch Beach Hotel to raise money for Orangewood Children's Home which shelters children who have fallen victim to abuse, neglect and abandonment.

The most touching part of the evening came when former Orangewood youth Ken Reid spoke about his experience at Orangewood and how it provided him with a second chance at life as well as the strength and courage he needed to move forward. He spoke about his goals to complete his education and how the many volunteers and Orangewood supporters have assisted him on his journey. One attendee, who remained anonymous, was so touched by Ken's story that he offered to pay for the rest of his education at the University of Southern California.

It was just one of the many offerings provided by the supporters of the event which raised over $350,000 and included a silent and live auction. Some of the popular items up for auction were a 7-night stay in Fiji and a VIP trip to New York to visit Athlete's First client and New York Jets Quarterback Mark Sanchez.

Also in attendance and performing as the Master of Ceremonies was ESPN NFL reporter Michael Smith who, in his fifth year as host of the event, kept the crowd of athletes and VIPs alike entertained and lively.

CEO David Dunn and Athlete's First host numerous events throughout the year which raise millions of dollars for worthy charities across the country. In past years, many of its clients, including Kansas City Chiefs' Brian Waters, have received numerous awards for their integrity and commitment to the community.

It is the fifth year that Athlete's First and Orangewood have partnered up for this event and with the continued support of community leaders, volunteers and sponsors both organizations seek to continue its commitment to the community while striving for positive change in the lives of young people.