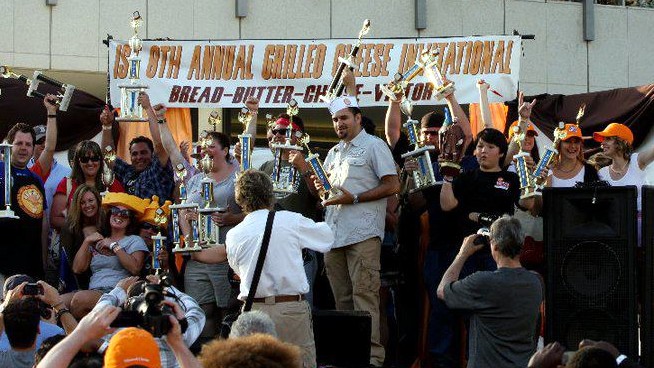 Sometimes we wish our Saturday self could phone our Monday self and give us a few heads-up warnings and suggestions from the near future.
Like? Don't worry about the weeding so much; take the afternoon off and go to your pal's baseball game. And? You don't need to eat the whole bowl of dip at your mom's barbecue. And? Get to the movie theater *before* the trailers if you don't want to sit in the front row.
If your Saturday self could talk to your Monday self about anything this week, we hope your future self is advising you to purchase tickets to the Grilled Cheese Invitational at the Rose Bowl on Saturday, April 28. Because, as it says on the site, it will sell out.
And being locked out of a melty competition with not one but a quartet of interesting categories is sad times. Oh, what categories, you ask? One is intriguingly called "The Honey Pot"; no shocker that it puts the emphasis on sweetness. There's also "Love, American Style" which spotlights the classic orange cheese sandwich.
A ticket is $15. (Plus service fee, natch.) There's entertainment and tomfoolery aplenty. Need proof? Check out the picture above. People wear cheese hats and wave trophies around, all proud and stuff, when they win. It's a fun, no-putting-on-airs day, is what we're getting at. But then the grilled cheese is not a foodstuff known for putting on airs. (Mayyybe a few pounds, yes, but that's another topic.)
Has your Saturday self rung you yet to warn you tickets will sell out? Better sit by the phone.
Follow NBCLA for the latest LA news, events and entertainment: iPhone/iPad App | Facebook; | Twitter; | Google+; | Instagram; | RSS; | Text Alerts | Email Alerts
Copyright FREEL - NBC Local Media