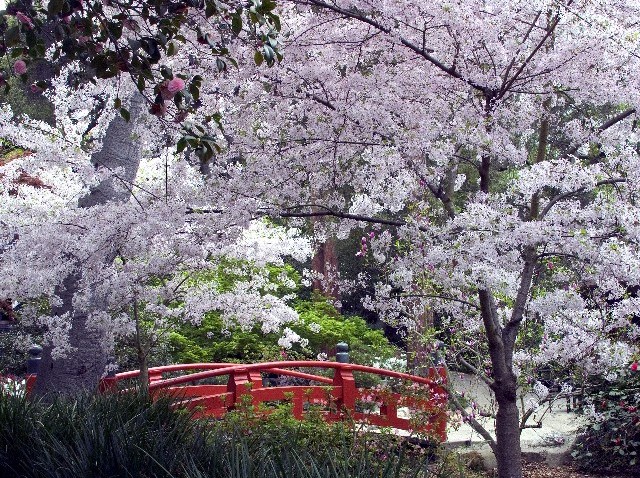 We'll wager, for many, many people, it is a weather-watching kind of weekend.
And nope, people aren't merely looking upwards; they're clicking on weather sites, checking the hour-by-hour forecasts.
That has to do with the LA Marathon running on Sunday, March 20, yes; but this is also the weekend where some of the outdoor-y, flower-oriented festivals are starting to tentatively test whether spring as arrived yet.
Well. Yes and no. But let's not let a bit of rain stop us from enjoying pretty blossoms and Bento Box lunches at the Cherry Blossom Festival, which is scheduled for Saturday, March 19 and Sunday, March 20. It's the first time Descanso Gardens has ever thrown such a fest, which may catch some by surprise; doesn't Descanso celebrate pretty much every bud that springs from its sprawling, La Canada-based grounds?
Aside from admiring (potentially rain-splashed) blossoms, visitors will have a lesson in Japanese cookery, will learn about growing and nurturing cherry trees, and will sip Cherry-tinis in the Camellia Lounge in the Full Moon Tea House.
If the weather cooperates, this sounds like a good way to welcome spring. And if you want to be extremely official about it, spring arrives on Sunday, March 20. Greeting the season under a flowering tree seems almost poetic.
Garden admission is $8 for an adult; Bento Boxes and Cherry-tinis are additional.
Copyright FREEL - NBC Local Media