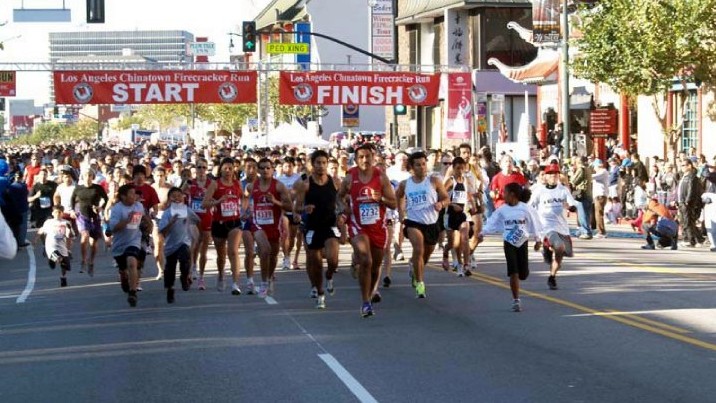 Dodger Stadium and Chinatown? Long time neighbors. But they aren't exactly close, location-wise. Popping by one and then running by the other, at least on foot, isn't really done. (The 110 kind of ensures that this will be the case.)
Except during the Chinatown Firecracker Run, which sends participants up the hill to Elysian Park and back down again. That's the 5K, and the 10K? More hills in the area (read: you'll feel it, in the best sense).
It's an unusual and fun course meaning lots of people'll be out early on Sunday, Feb. 12. Nope, you won't run on the freeway, but you will take in some neighborhoods, which is more interesting than a freeway-based run, anyway. (Sorry, 110; nothing personal.)
And Saturday, Feb. 11 for the Firecracker Bike Ride, which features the word "hilly" (we personally love that word). We also love the words "LA River," and pedalers will indeed wend along our waterway. That's on Saturday, Feb.11, and the courses? Twenty and thirty miles.
But the Firecracker run also has a Nite 'n Day Festival in the Chinatown Central Plaza -- think bands and lion dancers and taiko drummers -- and it is open to participants and non-participants alike. Not running? No problem. Hang on both Saturday and Sunday and take in the entertainment.
Follow NBCLA for the latest LA news, events and entertainment: Twitter: @NBCLA // Facebook: NBCLA
Copyright FREEL - NBC Local Media